CHECK-IN
Your room is available from 3 pm. Until then you are welcome to enjoy an afternoon snack at our bar.
CHECK-OUT
To avoid delays on departure, we recommend paying the hotel bill the evening before, at any time up to 10.00 p.m. Please vacate your room and your garage parking space by 11.00 a.m!
Naturally, you can also request a LATE CHECK OUT (50 €/room) at the reception.
MEAL TIMES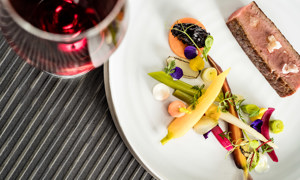 Meals are served at the following times:
• Breakfast: 7.30 a.m. to 10.30 a.m.
• Lunch: 12.30 p.m. to 4.00 p.m.
You are welcome to take your lunch from the buffet area in the dining room. If you are wearing a bathrobe, please sit in the saloon next to the bar.
• Dinner: 7.00 p.m. to 8.30 p.m.
SCHWARZENSTEIN ALL INCLUSIVE
All non-alcoholic drinks from the buffet area during mealtimes are free of charge. Everything ordered from waiting staff will be charged to your room.
WIFI
Wi-Fi internet access is free of charge and available in all areas of the hotel (no password required).
FITNESS CENTER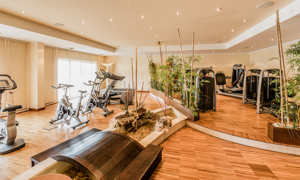 Our fitness center with garden view is equipped with Precor and Technogym and is open daily from 6.00 a.m. to 10.00 p.m! It is located at the end of the corridor on the left hand side, after the beauty center. Please find information on assistance in the weekly program!
BEAUTY VITAL CENTER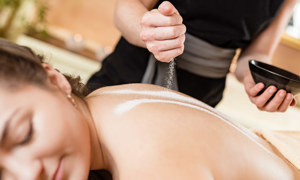 Our beauty therapists are delighted to provide you with information on treatments and reservations every day from 9.00 a.m. to 12.00 noon and from 2.00 p.m. to 7.30 p.m!
Treatment Times:
Daily from 8.00 a.m. to 12.00 noon
and 1.00 p.m. to 7.30 p.m.
OUTDOOR EQUIPMENT
We gladly rent you backpacks, hiking sticks, water bottles, hiking maps and bike locks for free for you hiking or bike tours. For a fee you can also get child carrier backpacks or strollers.
Simon Gietl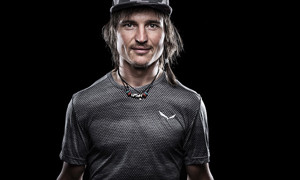 Simon Gietl from Luttach, meanwhile a star in the climbing and alpine scene and Salewa athlete for several years. 

As a sponsor of Simon, we wish him good luck and lots of fun on his expeditions. #pureMoutain
BIKE & E-BIKE RENTAL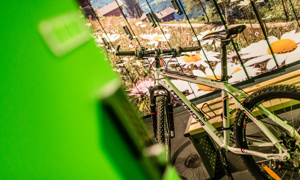 Our new professional bike cellar with integrated little workshop and drying lockers offers a wide selection of bikes. 15 Haibike electric bikes and two topquality full-suspension MTBs are available for rent for a small fee of 20 €/day, booking at the reception. The rental of all other bikes is free of charge.
RECEPTION
Our reception team is at your disposal from 9.00 a.m. to 10.00 p.m. every day.
HOLIDAYPASS PREMIUM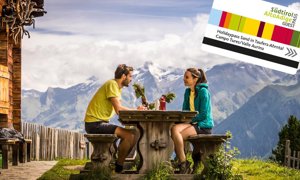 The "Holiday Pass Premium" – guest card includes free use of all public buses and trains in South Tyrol during your stay as well as numerous discounts in shops and for a variety of activities (available at the reception).
LAUNDRY ROOM
On the left-hand side of the Relax Pool entrance you can find the laundry room for washing and ironing your clothes. You may purchase detergent tabs at the reception.
POSTCARDS
For the hotel's own postcards we are happy to cover the postage costs within Europe. Postage costs for other postcards must be paid by yourself. Stamps are available at the reception.
NEW: Send postcards with your own snapshot. Free of charge at postcard.schwarzenstein.com.
SPA AREA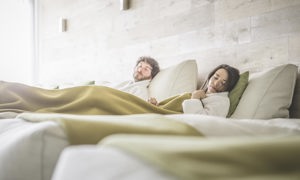 There are enough loungers in our spa area for everybody. Please do not reserve them with towels or other belongings. Our staff has been instructed to free unused loungers.
IN & OUTDOOR POOLS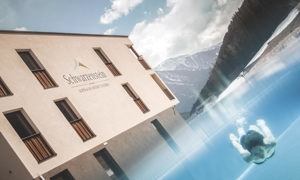 • Indoor Pools 6.00 a.m. to 10.00 p.m.

• OUTDOOR POOLS
Active Pool 8.00 a.m. to 7.00 p.m.
Sport Pool 6.00 a.m. to 7.00 p.m.
Whirlpool 11.00 a.m. to 7.30 p.m.

The relax pool is reserved for those who are looking for a place of silence (14+).
Please bring your bath towel, which you may find in the blue spa bag in your room.
SAUNA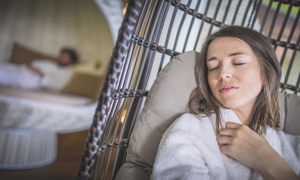 Our sauna area with 10 different saunas is open daily from 11.00 a.m. to 7.30 p.m. (Adults only 14+). You may use the towels on the left-hand side of the sauna entrance. The schedule for the sauna infusion sessions can be found in our weekly active-program.
• Family Sauna
On Tuesdays and on Thursdays, 11.00 a.m. to 2.00p.m., a part of our sauna is accessible for the whole family (even for kids under 14 years). We kindly ask you to respect the sauna rules (nude area, silence,…).
• Dress-On Sauna next to the Active Pool
11.00 a.m. to 7.30 p.m.
Partner Shops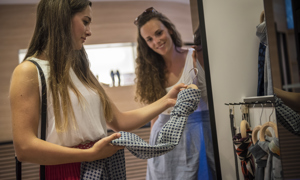 In our region you will find everything your heart desires. Local cycles and the contact to the people are very important to us. One more reason why we chose the South Tyrolean premium manufacturer Salewa to equip our guides.


Our hotel lobby offers a small insight into the selection of our local partners.
Salewa Mountain Shop at Sand in Taufers
Shoes Abfalterer at Luttach
Lederecke at Sand in Taufers
Mineral Museum at St. Johann
Mode Steger at Sand in Taufers
Kid's Mode Martin's Chic at Sand in Taufers